Derry Beach Adams
Practice Areas: Personal Injury and Medical Malpractice
Derry is assisted by her legal assistant, Lizzy Letellier. Lizzy can be reached at Lizzy@gaddiskinherd.com.
When another's wrong forever changes your life, personal injury lawyer Derry Adams is here to help. Derry Adams represents people and families hurt by the carelessness and recklessness of others. A proven courtroom-winner, her experience includes:
Complex injuries
Uninsured motorist claims
Insurance company bad faith
Burns
Commercial vehicle and trucking crashes
Doctor, hospital, and other medical malpractice
Sexual abuse by those in positions of trust like therapists or clergy
Skier-to-skier crashes and ski lift injuries
Derry Adams goes all-out for clients who have been hurt by these kinds of tragedies. She masters the details and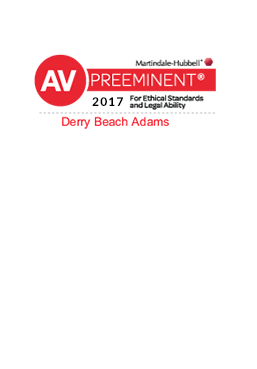 big picture of every case she takes. Then she fights hard to recover the financial and other losses her clients face. She digs deep because she believes justice is best served when clients have what they need to return as much as is possible to an active and productive life.
Derry Adams has more than 25 years of experience trying cases in Colorado Springs and throughout Colorado. Along the way, she has built a wide network of legal and expert resources. She knows the courtroom, the law, the legal system—and what makes people tick. She uses this experience and her deep insights into human behavior to put together cases that tell her client's story and are compelling to juries, judges, and opponents. Because of this passionate and persuasive representation, Derry Adams' clients make important recoveries both in and out of court.
Derry Adams grew up in New Orleans. She moved to Colorado to attend Colorado College and University of Colorado's law school in Boulder. She is married to teacher and tennis coach Dave Adams. Together, they raised their two now-grown children in Colorado Springs. They are deeply committed to this community and helping others.
Results & Honors
Because of her commitment to her clients and her in-depth experience and knowledge of the law, Derry Adams is proud to have a legacy of results and recoveries for her clients. While no attorney can guarantee an outcome for a particular case, you can read more about Derry Adams' past successes here.
Derry Adams has been honored by Martindale-Hubbell with an AV-preeminent ranking. This ranking recognizes an attorney's legal skills and high ethical standards. Derry has trained and continues to work with some of the best lawyers in the nation at the Trial Lawyer's College.