Larry R. Gaddis
Estate Planning Attorney in Colorado Springs
Larry Gaddis moved to Colorado from Kansas at the age of four. He has lived in the Colorado Springs area since 1969 and has been very active in a number of civic organizations and his church. His current focus is with several local non-profits and several Foundations.
Meet the Gaddis Family
Mr. Gaddis is married to Dr. Barbara Gaddis, who is the Assistant Vice Chancellor for Student Affairs at the University of Colorado at Colorado Springs. They have two sons, Jeffrey W. Gaddis, who is one of the leading realtors in Colorado Springs, and Aaron P. Gaddis, who is also a lawyer practicing in Colorado Springs. Larry has five grandchildren and enjoys travel, reading, and watching hockey and football.
Contact Attorney Gaddis Today!
Mr. Gaddis is assisted by Angelika M. Bush, Advanced Certified Paralegal & Legal Assessor. She can be reached at angelika@gaddiskinherd.com.
Areas of Emphasis:

Since 2013 Mr. Gaddis has limited his practice to:
Estate and Trust Administration
​​​​​​
Education:
University of Colorado, Bachelor of Arts, 1963
University of Colorado, Juris Doctor, 1969
Awards & Honors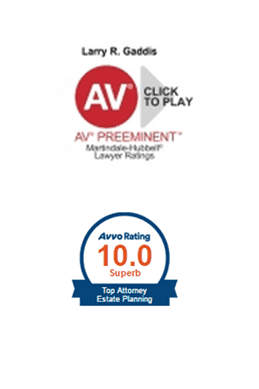 Top Lawyer Designation for Colorado Springs
Martindale Hubble AV Preeminent Lawyer Rating
Active Memberships:
Accredited Estate Planner Designation: 1993 to present
Who's Who in American Law: 1983 to present
Judicial Nominating Committee: 2014 – present
Edmundson Foundation
Colorado Springs Estate Planning Council: 1977 to present: Secretary, 1985 President; 1990 to 1991
Colorado Springs School Foundation: 1985 to present
Colorado Legal Services Board: 1999 to present; Treasurer 2008 to present
Colorado Bar Association: 1969 to present: Board of Governors, 1976 to 1978; Executive Council, 1978 to 2010
El Paso County Bar Association: 1969 to present: President-Elect 2006 to 2007; President 2007 to 2008; Chairman, Lawyer Referral Committee, 1974 Probate Section, 1983 to present; Probate Section President, 1988 to 1989; Chairman, Fee Dispute Committee, 1990 to 2007; Legacy Society, 2010 to present
American Bar Association: 1969 to present

Past Memberships and Honors:
Super Lawyer Designation for Colorado
Judicial Performance Commission for the Fourth Judicial District: 1993 to 1999
Legal Services of the Pikes Peak Region: Board Member, 1990 to 1997; President 1995 to 1999
Pikes Peak Community Foundation: Founding Board Member; 20 years on the Board and President for 10 years, 1996 to 2016
Colorado Springs Community Trust: 1991 to 2009: Chairman, 1999 to 2009
Colorado Springs School Trustee Emeritus
Colorado Springs School Board of Trustees: 1973 to 1996
Center for Prevention of Domestic Violence: Board Member, 1986 to 1990
Pikes Peak Mental Health Center: Board Member, 1972-1978; President, 1975 to 1976
Adjunct Professor: University of Colorado at Colorado Springs, 1975 to 1977
Bureau of National Affairs Award, 1969

Continuing Education:
Lecturer in Estate Planning and Probate for Local and Statewide Groups
Attends State and National Seminars on Estate Planning, Estate Administration, Probate, and similar topics

Languages:
Spanish (Larry R. Gaddis)
German (Angelika M. Bush)