Thomas J. Herd
Personal Injury and Medical Malpractice Lawyer in Colorado Springs
Mr. Herd is assisted by Trina Kauk (trina@gaddiskinherd.com) and Denise Yerkey (denise@gaddiskinherd.com).

Tom Herd is a trial lawyer. Tom's practice focuses on personal injury and wrongful death cases including motor vehicle crashes, bad faith conduct by insurance companies in wrongfully denying benefits, and medical negligence.

Tom is a graduate of Gerry Spence's Trial Lawyers College, the most prestigious trial advocacy college in America. Tom holds the coveted Martindale-Hubbell AV rating, and has been identified as a Super Lawyer (top 5% as selected by his peers) in the State of Colorado.
Tom has served the legal profession as the President of the El Paso County Bar Association. Tom has also served the community as the President of the Pikes Peak Library Board of Trustees, and as the President of the Pikes Peak Library Foundation Board.

Tom has two children. When he is not practicing law, Tom enjoys cycling, golfing, skiing, traveling and watching his children participate in sports.

Areas of Emphasis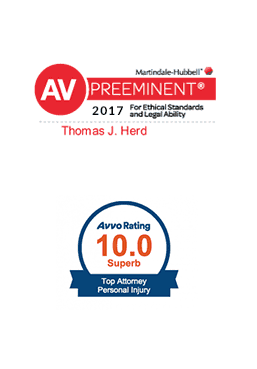 Education
Georgetown University School of Foreign Service, B.S.F.S, Cum Laude, 1975
University of Fribourg, Switzerland, 1973 to 1974
University of Notre Dame Law School, Juris Doctor, 1978

Active Memberships
El Paso County Bar Association: President, 2002-2003; President-Elect 2001-2002; Secretary, 1989-1990; Program Director, 1988-1989
Colorado Bar Association: Representative, Board of Governors, 2001-2003.
Colorado Trial Lawyers Association: Board of Directors, 1996 to 1999; Eagle Committee, Co-Chairman 1996 to 1997; Chairman of Colorado Springs Division 1996 to 1999; Coloradans for Civil Justice, 1999 to present; Membership Committee, Co-Chairman 1997 to 1998
American Association for Justice
Pikes Peak Library District Foundation: Board of Directors, 2007-2013

Past Memberships and Honors
Judicial Nominating Commission: (appointed by Governor Romer), Member, 1996 to 2001
Pikes Peak Library District: President, Board of Trustees, 2002 to 2003; Board of Trustees, 1999 to 2006
Big Brothers Program: Advisory Board, 1986 to 1992; Chairman, 1989 to 1992
Pikes Peak Legal Services: Board of Directors, 1986 to 1992 Deputy State Public Defender: 1978 to 1982 National Mock Trial Team: Barrett Award, University of Notre Dame Law School, 1977 to 1978

Continuing Education
Graduate of Gerry Spence's Trial Lawyers College
Seminar speaker on personal injury issues
Attends seminars with the Colorado Trial Lawyers Association
Has completed the Advanced National Institute of Trial Advocacy (Civil) Program
Attends many programs in the area of Trial Advocacy